Pierre-Auguste Renoir Critical Reception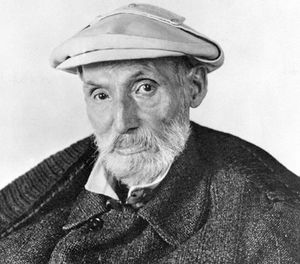 Full Name:
Pierre-Auguste Renoir
Short Name:
Renoir
Date of Birth:
25 Feb 1841
Date of Death:
03 Dec 1919
Focus:
Paintings
Mediums:
Oil
Subjects:
Figure, Landscapes, Scenery
Art Movement:

Impressionism

Hometown:

Limoges, France
Pierre-Auguste Renoir Critical Reception Page's Content
Renoir painted landscapes, portraits, still life, and modern life. A great worshipper of the female figure, his late works were mostly of nude women. Renoir always took pleasure in his paintings, even when others did not. A founding member of the Impressionist movement, he experimented with new methods throughout his career and dedicated his life to his art.
Pierre-Auguste Renoir During Life
Renoir was the youngest founding member of the Impressionist movement, but many believe he had the sharpest understanding that a subject constantly changed due to the impact of both light and color.

The Impressionists use of quick brush strokes and bright colors was criticized by some critics who felt it left their paintings looking unfinished and sloppy. Prevented from exhibiting their works at the Salon, the Impressionists displayed them at the "Salon des Refuses", the show of the refused works. This exhibition was not judged and was open to any artist willing to pay a small fee to show their paintings.

Renoirs work did shock people in the beginning. When he exhibited his paintings at Société Anonyme, a show in Paris in 1874, critics were dismayed to see simple oil sketches presented as finished works. Two years later his painting Nude in the Sun (also known as Woman's Torso in the Sunlight) was badly received by critic Albert Wolff who claimed he wanted to: "Try to explain to M Renoir that a woman's torso is not a mass of decomposing flesh. " Wolffs contempt for the piece stemmed from the fact that he saw it very much as modern art.

It was clear that Renoir and his associates did not follow the same rules as other artists of the time. They were committed to producing light-suffused paintings which excluded black but this technique was so far removed from traditional formulas that their works were regularly rejected by the Salon, and were difficult to sell.

Despite continued disapproval, some members of the Impressionist movement were making a name for themselves among both art critics and the general public. However, it took ten years for Impressionism to establish its following, determine its independent vision, and define its unique perceptiveness. The year 1874 was the year of departure for this movement, one that planted the seed of modern art.

Due to his preference for the human figure over landscapes, Renoir stood out from the others and was commissioned to create several portraits by members of the upper-middle-class society. He was considered a leader among the Impressionists, renowned for his luminous colors and mixed brush strokes.

For Renoir, the effect of light was as important as the form and composition of a painting. He created sensual images by tones of light and shadow and was famed for his radiant, intimate paintings. Many art critics regarded him as one of the most original painters of his period and he definitely raised the profile of Impressionism.

In 1880, Renoir created the painting Luncheon of the Boating Party which was believed to be a reaction to his friend Emile Zola's critique that Impressionists sell "sketches that are hardly dry".

Most of Renoirs works from 1883-84 onwards demonstrated a new classical technique inspired by his visit to Italy and exposure to the works of Raphael, Velazquez, and Rubens. The difference in these later paintings is so marked that they have been grouped together under the title of the "Ingres" period, reflecting their slight similarity to the technique of Ingres. This period is also known as Renoirs "harsh" or "dry" period.

Renoir did not completely disregard Impressionism whilst adopting this new technique because he retained a luminous palette. The main change to his works was the emphasized volume, form, contours, and lines rather than color and brush stroke. However, the works from this period, such as The Umbrellas and The Large Bathers (Les Grandes Baigneuses), are generally considered the least successful of Renoir's later offerings.

It was around 1882 that Renoir began selling his works at good prices. He refused to exhibit alongside the radical Impressionists led by the anarchist Camille Pissarro. By 1897, his paintings were being bought by the French state.

Just before his death in 1919 Renoir saw one of his canvasses displayed next to the work of his hero Paolo Veronese in the Louvre. After his death his son Jean, the film director, kept his name a prominent one in French culture. Renoirs unique method was often scorned by young, up-and-coming artists like Picasso. Even Degas laughed at his friend's style, calling it "as puffy as cotton wool".
Pierre-Auguste Renoir After Death
Renoir was the first Impressionist to break away from the movement's ultramodern direction, yet many feel he remained the purest of all the Impressionist painters throughout his artistic career. He made several thousand paintings and their sensuality made his works some of the most famous and frequently-reproduced in the history of art.

It has been said that "Renoir is the final representative of a tradition which runs directly from Rubens to Watteau". He lived through two wars, but for him art was not about war or politics - it was a pleasure and it made life better. Early in his career he was quoted as saying that 'if painting were not a pleasure to me I should certainly not do it'.

Not many artists shared Renoir's outlook and this is why he remains a remarkable Impressionist painter among critics and art historians alike.