Pierre-Auguste Renoir Biography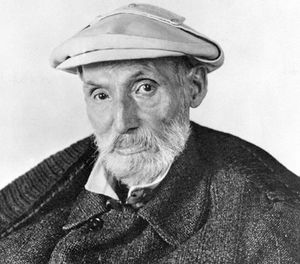 Full Name:
Pierre-Auguste Renoir
Short Name:
Renoir
Date of Birth:
25 Feb 1841
Date of Death:
03 Dec 1919
Focus:
Paintings
Mediums:
Oil
Subjects:
Figure, Landscapes, Scenery
Art Movement:

Impressionism

Hometown:

Limoges, France
Pierre-Auguste Renoir Biography Page's Content
Renoir is one of the foundering members of the Impressionist movement and an artist best known for his depictions of pleasant scenes and curvy women. Taking great pleasure in his work, Renoir drew inspiration from a variety of sources and changed his technique many times during his career. Renoir´s passion for painting was obvious too all who knew him and observed his work.
Pierre-Auguste Renoir Early Years
Pierre-Auguste Renoir was born in Limoges, France, on February 25th 1841. His artistic career began at the age of thirteen when he started working as a porcelain painter in a Parisian factory, creating flower designs on China. He went on to join the studio of the Swiss artist Charles Gleyre in around 1860 and his teacher was a source of great inspiration. It was also at these classes that Renoir first met Monet, Bazille, and Sisley, all of whom went on to found the Impressionist movement.

In 1869 Renoir collaborated with Monet, sketching on the Seine river banks at Asnières, Argenteuil, and Chatou. This became something of a tradition and it was during these meetings that the two young artists developed their famous technique and experimented with the bright colors central to Impressionism.

It was also around this time that Renoir was allowed to copy at the Louvre, where he was influenced by Rococo masters such as Boucher, Fragonard, and Watteau.

In the 1880s Renoir left the Ecole des Beaux-Arts where he had been studying and turned his attentions to figure paintings, particularly of women. A great worshipper of the female form, Renoir said I never think I have finished a nude until I think I could pinch it. '

Renoirs technique of broken brush strokes was combined with brash colors to portray the light and movement of the subject. His early works captured real life scenarios and were always pleasant and non-serious. Renoir was quoted as saying Why shouldn't art be pretty?, there are enough unpleasant things in the world.

A master at depicting facial expressions, Renoir tended to paint youthful portraits of his associates, most of whom were artists and writers. With larger compositions, Renoir succeeded in assembling several figures in one frame. His compositions were complex and required many revisions. He would work on the same canvas for weeks, and even months.

Like many painters, Renoir endured difficulties in his early career, but turned this around as a portraitist in the late 1870s. He was also helped by the art dealer Paul Durand-Ruel who began to regularly purchase his work in 1881, and helped raise Renoirs profile.
Pierre-Auguste Renoir Middle Years
In 1881 Renoir visited Italy, among other places, and was inspired by the works of Raphael, Velazquez, and Rubens. Following his travels, he was eager to experiment with a more decorative and traditional style and his subsequent paintings became more linear. He was even quoted as saying that he had 'travelled as far as Impressionism could take me'.

His painting The Umbrellas is evidence of this change in attitude and is a painting that Renoir started before his vacation and finished upon his return. Renoirs subjects also shifted from contemporary themes to more timeless ones, particularly nudes.

As his new style became more distinguished and austere he also created canvasses which depicted mythological subjects, such as The Judgment of Paris, and his female subjects became older and more voluptuous.

In 1881 Renoir painted Luncheon of the Boating Party which was believed to be a reaction against his friend Emile Zola's critique that impressionists sell "sketches that are hardly dry". This painting is an example of captured moments on the Seine and it combines still life, portraiture, landscape, and genre. This painting was purchased shortly after by Paul Durand-Ruel, like many of Renoirs previous works. Renoir fully established his reputation with a solo exhibition held at the Durand-Ruel Gallery in Paris in 1883.
Pierre-Auguste Renoir Advanced Years
In 1885 Renoir and girlfriend Aline Charigot welcomed their first son, Pierre. They went on to marry in 1890. In 1894 Aline gave birth to Jean, followed by Claude in 1901.

In 1887, Renoir completed a series of studies of a group of nude female figures known as The Bathers. Such works are unique in the history of modern painting for their representation of feminine grace, and they show Renoir´s ability to capture the soft and pearly texture of skin.

Despite suffering from rheumatism in his later years, which went on to cripple him, Renoir painted until the end of his life, and even took up sculpture, directing assistants to act as his ´hands´. On December 3rd, 1919, Renoir died at his house in Cagnes-sur-Mer at the age of seventy eight.