Pierre-Auguste Renoir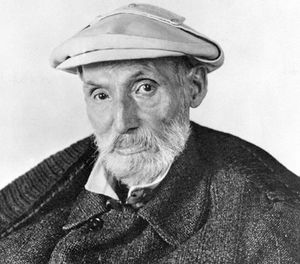 Short Name:
Renoir
Date of Birth:
25 Feb 1841
Date of Death:
03 Dec 1919
Focus:
Paintings
Mediums:
Oil
Subjects:
Figure, Landscapes, Scenery
Art Movement:

Impressionism

Hometown:

Limoges, France
Pierre-Auguste Renoir Page's Content
One of the founding members of the Impressionist movement, Renoir is an artist best known for his depictions of pretty children, flowers, pleasant scenes, and curvy women. Taking great pleasure in his work, Renoir drew inspiration from a variety of sources and experimented with new techniques throughout his career. Renoir was the first Impressionist to detach from the movement's ultramodern direction and his enthusiasm for painting was obvious to all who met him and observed his work.

Renoirs sensual works such as The Bathers and Nude in the Sun are some of the most famous and frequently-reproduced in the history of art. It has been said that "Renoir is the final representative of a tradition which runs directly from Rubens to Watteau" and he earned a huge following for his unique painting style.
Pierre-Auguste Renoir Artistic Context
The Impressionists were considered radicals of their time because they broke the rules of traditional forms of painting, and worked outside of the studio. Although Impressionism in France began when several other painters were experimenting with plein-air painting, Renoir and his peers developed new techniques that defined the movement; their art was immediate, and it portrayed movement with sincere compositions and vivid colors. The public welcomed this original vision although art critics did not.

The Impressionist movement led the way for a variety of others, including Neo-impressionism, Post-impressionism, Fauvism, and Cubism.
Pierre-Auguste Renoir Biography
Renoir is an artist best known for his pleasant paintings and love of the female figure. He did not consider his art political or moralistic but simply a joy to create. Renoir indulged in painting and dedicated his life to it.

Early Years:
Pierre-Auguste Renoir was born in Limoges, France, on February 25th 1841. He began painting at the age of 13 when he found a job as a porcelain painter in a Parisian factory, creating flower designs on China.

In around 1860, Renoir joined the studio of the Swiss artist Charles Gleyre and met fellow students Monet, Bazille, and Sisley, all of whom went on to lead the Impressionist movement. In 1869 Renoir spent time sketching with Monet on the Seine river banks and it was during this time that they developed the famous technique and bright colors that defined the Impressionist movement.

Like many artists, Renoir endured difficulties in his early career, but turned this around as a portraitist in the late 1870s.

Middle Years:
In 1881 Renoirs trip to Italy opened his eyes to the works of Raphael, Velazquez, and Rubens and afterwards he was keen to experiment with a more traditional style. His later paintings, including The Umbrellas, are evidently more linear. Renoirs subjects also shifted from contemporary themes to more timeless ones, particularly nudes.

Advanced Years:
After marrying Aline Charigot in 1890, Renoir welcomed three sons into the world between 1885 and 1901: Pierre, Jean, and Claude.

In 1887, he completed a series of works of a group of nude female figures known as The Bathers. He continued painting until the end of his life and even took up sculpture despite suffering from rheumatism. Renoir died On December 3rd 1919 at his house in Cagne, aged seventy-eight.
Pierre-Auguste Renoir Biography
Pierre-Auguste Renoir Style and Technique
Renoirs paintings are easily identifiable by their use of bright colors and bold lines. Experimenting with a more classical style in his later years, Renoir developed his own technique which fused his trademark sunny, optimistic outlook with bold, contrasting lines.

Early years:
Renoir spent a great deal of time sketching on the Seine river banks with his friend Monet and during these meetings the two young artists developed their famous technique and experimented with the bright colors that became central to Impressionism.

Renoirs early works captured real life scenarios and his themes were always pleasant and non-serious. A master at depicting facial expressions, Renoir tended to paint youthful portraits of his associates, most of whom were artists and writers.

Renoirs technique of broken brush strokes was combined with brash colors to portray the light and movement of the subject. He was greatly inspired to paint figures, particularly of women.

Middle Years:
Its believed that Renoir used just five colors in his palette and his time as a porcelain painter taught him how to successfully combine different colors. Impressionism was very much defined by its use of light colors and it was a style based on quick brush strokes but a trip to Italy introduced Renoir to the work of the Renaissance artists Raphael, Velazquez, and Rubens and this inspired him to change his technique and experiment with a more decorative and traditional style. Consequently, his subsequent paintings became more linear.

Advanced Years:
After 1890, Renoirs work moved in a new direction yet again. He returned to using thin brush strokes and became less concerned with outlines, instead opting for a more sketchy approach. Renoir focused on epic nudes and domestic scenes and examples of this work include Girls at the Piano and Grandes Baigneuses, the latter being the most successful of the artists later offerings.

Towards the end of his career, Renoirs style changed again and he opted for stronger colors - often reds and oranges - and thick brush strokes. The female nude was a favorite subject and he depicted details of the scene through freely-brushed spots of color which fused his figures and their surroundings.
Pierre-Auguste Renoir Style and Technique
Who or What Influenced Pierre-Auguste Renoir
Drawing great inspiration from a range of artists and periods led Renoir to produce a technique that was individual and ever-changing. Studying hard in his early career, Renoir dedicated himself to his work and collaborated with his fellow students to develop a technique that went on to spawn modern art - Impressionism.

Drawing great inspiration from a range of artists and periods led Renoir to produce an original technique that earned him his reputation as a pure impressionist who created some of the most famous and frequently-reproduced work in the history of art.

Early on in his career, he was greatly influenced by Manet, an artist who, like the Impressionists, was unsuccessful in having his work displayed in the Salon. The influence of Courbet's realism was also evident in Renoirs first few paintings.

The Louvre:
When Renoir was granted permission to copy at the Louvre he was exposed to the works of Rococo masters such as Boucher, Fragonard, and Watteau. This inspired him to create a classic form while retaining the luminous palette that was central to impressionism.

Artists of the day:
Renoir spent a great deal of time studying the paintings of Camille Corot, and Eugène Delacroix too and he was also influenced by Degas sense of movement, and the 18th century master Boucher.

Renaissance Masters:
In 1881, a trip to Italy further inspired Renoirs work. Exposed to the works of Raphael and other Renaissance masters, Renoir began to think that his art was heading in the wrong direction. For the next few years his paintings became more severe in style and he was very much aiming for a return to classicism. This period in his career has been termed the "Ingres period" due to the fact that he focused on drawing and spent much of his time emphasizing figure outlines.
Pierre-Auguste Renoir Followers
A founding member of the Impressionist movement, Renoir made a huge impact on the art world and gained popularity in the United States and Europe thanks to his loyal client Paul Durand-ruel.

Victor Chocquet:
Victor Chocquet supported Renoirs work when others ridiculed it, and he collected a considerable number of the artists paintings. Renoir painted Chocquets portrait several times and his depictions were soft, with the subject gazing gently at the observer. Often regarded as his greatest male portrait, Renoir managed to capture the spirit of his supporter as well as convey Chocquets passion for art.

Picasso:
Despite the vast artistic differences between Renoirs sensual paintings and Picassos rococo-esque works, by 1918 Picasso had entered his neoclassical phase and regarded Renoir as a possible artistic inspiration. He found relevance in Renoirs work where critics did not and by 1918 had acquired Woman Reading. In the years that followed, Picasso made several paintings and drawings referring to Renoir and Impressionism.

Picasso admired Renoir because he depicted modern urban life and painted fashionable ladies and gentleman during the 1860s and 1870s. Picasso made a somewhat moving sketch of an elderly Renoir in1919-20 and based his painting on an anonymous photo of Renoir.

George Charpentier:
The family of publisher George Charpentier was also supporters of Renoir, and his wife and children were the subject of the portrait exhibited at the 1879 Salon. Delighted with Renoirs work, Madame Charpentier made sure that it was prominently displayed and she went on to introduce Renoir to her friends, some of whom also commissioned work from him.

Paul Bérard:
One of Renoirs biggest supporters was banker and diplomat Paul Bérard, who collected over 30 of the artists creations.

Paul Durand-ruel:
Another of Renoirs followers was art dealer Paul Durand-ruel. At the end of the 19th century Durand-Ruel was a respected art dealer and succeeded in establishing the market for Impressionism in both the United States and Europe. Durand-Ruel had an extensive collection of Renoir paintings and took the young artist under his wing.
Pierre-Auguste Renoir Critical Reception
A founding member of the Impressionist movement, Renoir experimented with new designs throughout his career and dedicated his life to developing his art.

During Life:
Renoir shocked some people when he exhibited his paintings at Société Anonyme, a show in Paris in 1874. Critics were dismayed to see simple oil sketches presented as completed works. Two years later his painting Nude in the Sun (also known as Woman's Torso in the Sunlight) was badly received by critic Albert Wolff who claimed he wanted to: "Try to explain to M Renoir that a woman's torso is not a mass of decomposing flesh. "

Due to his preference for the human figure rather than landscapes, Renoir stood out from the others and was commissioned to create several portraits by members of the upper-middle-class society. He was considered a leader among the Impressionists, renowned for his luminous colors and mixed brush strokes.

In 1880, Renoir created the painting Luncheon of the Boating Party which was believed to be a reaction to his friend Emile Zola's critique that impressionists sell "sketches that are hardly dry".

After Death:
Renoir was the first impressionist to deviate from the movement's ultramodern direction, yet many feel he remained the purest of all the impressionist painters throughout his career. He made several thousand paintings and their sensuality made his works some of the most famous and frequently-reproduced in the history of art.

It has been said that "Renoir is the final representative of a tradition which runs directly from Rubens to Watteau". He lived through two wars, but for him art was not about war or politics - it was a pleasure and it made life better. Early in his career he was quoted as saying that 'if painting were not a pleasure to me I should certainly not do it'.

Not many artists shared Renoir's outlook and this is why he remains a remarkable Impressionist painter among critics and art historians alike.
Pierre-Auguste Renoir Critical Reception
Pierre-Auguste Renoir Bibliography
Volumes have been written about Impressionism Renoir´s contribution to this exciting movement. Below is a bibliography and recommended reading list for those interested in finding out more about this fascinating artist.

Bibliography:
• Renoir: A Master of Impressionism
Gerhard Gruitrooy (2009)
• Impressionism: Origins, Practice, Reception
Belinda Thomson (2000)

Recommended reading:
• Impressionism: Art, Leisure, and Parisian Society
Professor Robert L. Herbert et al (1991)
• Pierre-Auguste Renoir, 1841-1919: A Dream of Harmony
Peter H Feist (2000)
• Renoir Landscapes: 1865-1883
Mr Colin Bailey, Christopher Riopelle (2007)
• Renoir, My Father
Jean Renoir (1964)
• The Judgment of Paris: The Revolutionary Decade that Gave the World Impressionism
Ross King (2006)
• The Private Lives of the Impressionists
Sue Roe (2007)

Image source:
• http://www.nationalgallery.org.uk/upload/img_400/renoir-pierre-auguste-c-face-half.jpg