Pierre-Auguste Renoir Style and Technique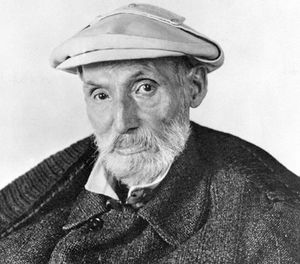 Full Name:
Pierre-Auguste Renoir
Short Name:
Renoir
Date of Birth:
25 Feb 1841
Date of Death:
03 Dec 1919
Focus:
Paintings
Mediums:
Oil
Subjects:
Figure, Landscapes, Scenery
Art Movement:

Impressionism

Hometown:

Limoges, France
Pierre-Auguste Renoir Style and Technique Page's Content
Renoir´s works are easily identifiable by their use of bright colors, light-hearted subjects, and bold lines. Committed to pursuing his own style and with a dislike for traditional forms, Renoir collaborated with fellow students Monet, Sisley, and Bazille, and together they founded the Impressionist movement. Their style depicted subjects and landscapes naturally and painting was often held outdoors, which was considered somewhat radical.
Pierre-Auguste Renoir Style
Early Years:
In his early career, Renoir spent a great deal of time sketching on the Seine river banks at Asnières, Argenteuil, and Chatou with his friend and fellow Frenchman Claude Monet. It was during these meetings that the two young artists developed their famous technique and experimented with the bright colors that later became central to Impressionism. It was also during this time of practicing painting light and water in the open air that Renoir and Monet discovered that the color of shadows is not brown or black, but the reflected color of the objects surrounding them.

Renoirs early works captured real life scenarios and their themes were always pleasant and non-serious. Renoir was quoted as saying Why shouldn't art be pretty?, there are enough unpleasant things in the world. A master of depicting facial expressions, Renoir tended to paint youthful portraits of his associates, most of whom were artists and writers.

Renoirs technique of broken brush strokes was combined with brash colors to portray the light and movement of the subject. He was greatly inspired to paint figures, particularly of women. A great worshipper of the female form, Renoir said I never think I have finished a nude until I think I could pinch it. ' With larger compositions, Renoir succeeded in assembling several figures in one frame and his compositions were complex and demanded several revisions.

Middle Years:
Its believed that Renoir used just five colors in his palette and his time as a porcelain painter taught him how to combine different colors well. Impressionism was very much defined by its use of light colors and it was a style based on quick brush strokes but a trip to Italy introduced Renoir to the work of the Renaissance artists Raphael, Velazquez, and Rubens and this inspired him to change his technique and experiment with a more decorative and traditional style.

Consequently, his subsequent paintings became more linear. He started using bold lines to outline his objects and black to provide contrast and he focused less on brush strokes and blending colors and more on form and contours. The resulting works resulted in what art historians call Renoir's "dry" or "Ingres period" because he accentuated the outlines of his figures. His painting The Large Bathers (Les Grandes Baigneuses) is a good example of this new style and he invested a great deal of time perfecting this piece.

Experimenting with a more classical approach later in his career, Renoir developed his own unique style which fused his sunny, optimistic outlook with bold, contrasting lines. This style dominated the rest of his works, most of which focused on nude women.

As his new style became more distinguished and austere, Renoir also created canvasses which depicted mythological subjects, such as The Judgment of Paris, and his female subjects became more voluptuous.

Advanced Years:
After 1890, Renoirs work moved in a new direction yet again. He returned to using thin brush strokes and became less concerned with outlines, preferring a more sketchy approach. This period saw Renoir concentrate on epic nudes and domestic scenes and examples of this work include Girls at the Piano and The Large Bathers (Grandes Baigneuses). The latter is the most characteristic and successful of Renoir's later offerings.

Renoir's style encompassed open-air landscapes, family scenes, and monumental portraits such as The Luncheon of the Boating Party. His subjects were always light-hearted and he enjoyed painting portraits that were brimming with life, sunlight, and realism. A worshipper of the female figure, much of Renoirs later paintings centered on nude, buxom women. Renoir very much indulged in art and dedicated his life to it.

In his late career, Renoirs style changed again and he opted for stronger colors - often reds and oranges - and thick brush strokes. The female nude was a favorite subject of Renoirs and he depicted details of the scene through freely-brushed spots of color which fused his figures and their surroundings.

In 1887, Renoir completed a series of studies of a group of nude female figures known as The Bathers. Such works are unique in the history of modern painting for their representation of feminine grace, and they show Renoirs ability to capture the soft and pearly texture of skin.

Renoir's paintings are characterized by their use of vibrant light, and the artist used this masterfully, portraying his subjects both vividly and spontaneously. The painting Bal au Moulin de la Galette is a great example of Renoirs technique and is a renowned Impressionist painting.