Rosso Fiorentino Style and Technique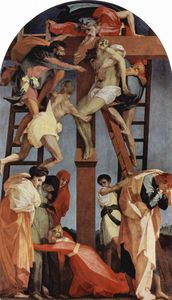 Full Name:
Giovanni Battista di Jacopo
Short Name:
Rosso
Alternative Names:
Il Rosso
Date of Birth:
1494
Date of Death:
1540
Focus:
Paintings, Drawings
Mediums:
Oil, Wood, Stone, Other
Subjects:
Figure, Scenery
Art Movement:

Mannerism

Hometown:

Florence, Italy
Rosso Fiorentino Style and Technique Page's Content
One of the founders of Mannerism, a work of Rosso Fiorentino's can easily be recognized by the brash tenets of this style that he helped develop. The lighting is harsh and the figures tend to be angular and elongated. Perspective is often from an unusual angle and the colors are brilliant though impetuous. Limbs are elegant and tapered and heads are often disproportionately small. There is an emphasis on raw emotion in his early works, which is toned down in his later period.
Early Works:
Rosso worked under the time frame of the Florentine Renaissance, viewing the painted and sculpted works of artists such as Michelangelo that placed great emphasis on classical features and idealized beauty.

To a young artist trying to make a name for himself, it may have seemed that the works of artists like Michelangelo, Raphael and Leonardo da Vinci had reached the pinnacle of perfection.

When faced with such a challenge, there were two ways to go; one could either attempt to emulate the perfect works that had already been created or rebel against them. A dogged individualist, Fiorentino chose to rebel.

Beginning his formal training in the workshop of Andrea del Sarto along with another young painter named Jacopo de Pontormo, Fiorentino helped to form his own take on classicism.

His early works are distorted and garish, dangling on the precipice of grotesque. Figures are angular, at times emaciated; they possess distorted, lengthened limbs, and are placed in unnatural, complex positions.

One of the most notable characteristics of these early works is the use of lighting, which is used more for emotional effect than for realism. Faces are somber and positioned in darkness to accentuate this. Flashes of light can glaringly illuminate a scene as if stemming from a harsh spotlight of lightning from above.

Maturation of an artist:
After arriving in Rome and viewing the art of his contemporaries, the later works of Raphael and the recent work on the Sistine chapel ceiling by Michelangelo, Fiorentino's works turned away from the grotesque hallmarks of his earlier period.

Roman Mannerism differed in that it utilized increasingly classical forms, more harmonious colors, and figures that took on a greater three dimensionality.

In response, Fiorentino's paintings focused more on physical beauty and adopted a different approach to emotional effect, one that was more subdued. This is most notably seen in his painting, Dead Christ with Angels, painted in about 1527.

Fiorentino's brushstrokes exhibit a greater refinement than they exhibited in previous works. His painting during this time also starts to show more of the decorative touches that would later become the bread and butter of his ornamentation at Fontainebleau.

Later Works:
In order to produce the kind of work that would please the French court, Fiorentino drew on his former work but tweaked it to suit the more decadent aesthetic that befits a palace rather than a church.

More ornamental and decorative than his previous works, Fiorentino was given the freedom to unleash his imagination and create a new style of interior decoration.

Fiorentino's style during this time involved a mélange of different mediums and techniques, cleverly combining frescoes with stucco reliefs and intricate wooden panels to create a stunning effect in the palace. Allegorical paintings were juxtaposed with molded plasterwork in which the framing was treated like leather or paper, in rich scrolls and curlicues.

Typical Mannerist touches such as elongated figures, exaggerated lines and bright colors prevailed, along with a newfound celebration of the sensuous nude, which proved extremely popular with the King.