Rosso Fiorentino Biography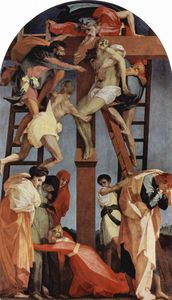 Full Name:
Giovanni Battista di Jacopo
Short Name:
Rosso
Alternative Names:
Il Rosso
Date of Birth:
1494
Date of Death:
1540
Focus:
Paintings, Drawings
Mediums:
Oil, Wood, Stone, Other
Subjects:
Figure, Scenery
Art Movement:

Mannerism

Hometown:

Florence, Italy
Rosso Fiorentino Biography Page's Content
Giovanni Battista di Jacopo, more familiarly known as Rosso Fiorentino, was born in Florence in 1495. Only recently has any light been shed on his family origins as for many years his childhood was shrouded in obscurity.

Neither he nor his biographers made any mention of his family, and thus rumors have abounded throughout history. One of the most popular was that he was the bastard son of a priest, which was not uncommon in those days.

Recently uncovered documents however suggest that his father worked as a household staff member of the Florentine Signoria, most likely as a guardsman.

This would afford the family a humble yet relatively comfortable lifestyle; though for Fiorentino, who in later years was paid a lavish salary and was a favored member of the French court, these origins were perhaps too humble to mention.

Additionally, with the later rule of the Medici, coming from a family that possessed a history of service to the Republican government was not something to talk about.
Rosso Fiorentino Early Years
Fiorentino's pet monkey:

Fiorentino's monkey had taken a fancy to one of his assistants, Battistino, and would steal grapes from the monk's rooftop next door as gifts for the boy.

One day the monkey was caught in the act, taken to court, and Fiorentino was ordered to keep it chained with a weight in his house.

However, being extraordinarily clever the baboon, practiced walking with the weight until he had trained itself to leap as before while holding it in his hands. At this point he enacted his revenge, jumping over to the monk's rooftop and using the chain weight to break everything in sight.
Regardless of what his father did for a living, Rosso Fiorentino grew up in Florence during a time when he was surrounded by artistic influence, and showed a strong interest from a very early age.

He emulated the work of Michelangelo and taught himself, as, according to the biography of Giorgio Vasari, Rosso had "a certain opinion of his own, which did not entirely accord" with other masters of the time. Even at such a young age, Fiorentino developed a reputation as being an absolute individualist.

It is likely that he received training in various bottegas in the neighborhood, as many aspiring artists were employed in the workshops of older painters who weren't so well known in order to hone their skills.

Signs of Fiorentino's work have been uncovered in the ornamentation and decoration of cathedrals and he did receive a few early commissions before moving on to more formal training.

Development of a new style:
In 1512 Fiorentino joined the workshop of Andrea del Sarto, along with another young man who would become one of his most renowned contemporaries, Jacopo da Pontormo.

Combining their influences and drawing from the works of Michelangelo and Gothic engravings, these two artists created a new, highly emotional and expressive style that came to be known as Florentine Mannerism.

Though he created a great many works during this time period, the most well known include The Assumption of the Virgin and Deposition from the Cross.

As Fiorentino's reputation grew and spread throughout Florence he received a number of personal commissions for portraits and other works, though he was plagued by controversy involving dissatisfied patrons who found his work rather disturbing and grotesque, veering from the classical idealism of other painters popular at the time.

Tall, thin, and elegant, with a thatch of red hair, he Fiorentino cut a
dramatic figure. During this time he also developed a reputation for eccentricity, keeping a mischievous pet monkey.

In order to paint with more anatomically correct detail, Fiorentino turned to a pastime that many other Florentine artists of the era employed, that of studying cadavers. Through his research he developed a morbid interest in attempting to bring the dead back to life through art.

The cadaver motif, consistent in his work during this time period, possesses a rather harsh character, highlighting the more unpleasant or disturbing aspects of the bodily condition rather than the idealized bodies associated with classical art.

Eventually finishing his commissioned works in Florence, Fiorentino set his sights on the thriving Renaissance capital of Rome.
Rosso Fiorentino Middle Years
It was after his arrival in Rome that Fiorentino's fame grew and his personal style matured, though he made a few enemies along the way. After viewing Michelangelo's work on the Sistine chapel ceiling, Fiorentino allegedly made disparaging comments along the lines of not wanting to work in this same style.

This caused enough of an uproar that he later wrote a letter of apology to Michelangelo himself, stating not only that he admired the work but that it was the work of divinity. This illuminates Fiorentino's own beliefs on the role of the artist; that he or she can be an instrument of the divine.

In fact his style was directly influenced by this later work of Michelangelo's, along with that of Raphael, who was at that time in Rome the head of one of the largest workshops of the Renaissance (and whose followers would have nothing to do with Rosso; it is rumored that he was banned from the workshop).

As a result of these influences, Fiorentino put a greater emphasis on refined beauty, along with more subtle emotional impact in his paintings. His Dead Christ With Angels is a prime example of this new emphasis.

The Sack of Rome and its aftermath:
When in 1527 Rome fell prey to Charles V's troops in the sack of Rome, the Roman Renaissance ended rather abruptly. Fiorentino was taken prisoner by the Germans, stripped, and forced to perform humiliating menial labor involving moving the contents of a cheese shop.

As this was a somewhat chaotic time and he wasn't kept under the most restrictive of supervision, he was able to escape. The artist spent the next three years wandering throughout Italy where he was taken in by friends such as the Bishop Tornabuoni, who had previously commissioned important works of his.

Typically, as folklore goes, the fiery Fiorentino managed to fall into a bit of carousing and trouble making, ending in a brawl with some monks over the mistreatment of one of his male assistants that forced him to leave yet another town and resume his travels.

It was in Venice that Fiorentino made the acquaintance of King Francois I of France, who took advantage of the high number of displaced Italian artists of the time, luring them back to France to refurbish a woodland chateau that came to be known as Fontainebleau.
Rosso Fiorentino Advanced Years
King Francois I was restored to his throne in 1527 after two years of captivity under the Holy Roman Emperor Charles V. At this time he decided to restore a hunting lodge located in the woods approximately 40 miles outside of Paris, and turn it into a fortress and grand symbol of the new establishment.

The location was perfect as it allowed the King to continue his favorite pastimes of hunting and tournaments and still be close enough to the capital to provide for social events.

As this time coincided with the Sack of Rome, Francois was able to draw a great deal of displaced talent from Italy including world famous painters, sculptors, artisans, musicians, and astronomers, among others.

This group included Rosso Fiorentino, who after his wanderings about Italy was tempted by the offer to settle down, earn an enviable salary, and make a new name for himself in France. He was given his own suite and a certain degree of artistic freedom.

Drawing on the desires of the decadent French court, Fiorentino helped to found the School of Fontainebleau, a new decorative style that emphasized a sophisticated and refined aesthetic, idealization of ornamentation and eroticism, and which took thematic inspiration from mythology.

Fiorentino's most well known work during this fruitful period was completed in the Galerie of Francois I, which he decorated with lavish frescoes depicting Olympian Gods possessing features of the sovereign, along with stuccos in low-relief and sculptures.

Unfortunately, a great deal of his other work during this time period was destroyed or revised by other Fontainebleau artists later on.

It was stated by Giorgio Vasari that Fiorentino committed suicide with a deadly poison procured in Paris in 1540 after falsely accusing a friend of theft. However, this theory has since been questioned as there is no proof that this really occurred.

In whichever manner he died, Rosso Fiorentino left a lasting legacy of Mannerist individuality and a finely-honed craft that has proven inspirational for many artists that followed. Fiorentino died a well-respected and wealthy man, unlike many of his contemporaries.