The Ecstasy of Saint Theresa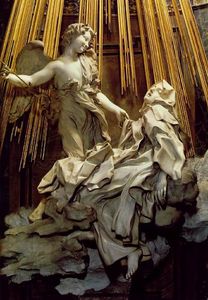 Date of Creation:
1652
Height (cm):
150.00
Medium:
Metal, Stone
Subject:
Figure
Art Movement:

Baroque

Created By:
Current Location:

Rome, Italy
The Ecstasy of Saint Theresa Page's Content
The Ecstasy of Saint Theresa Story / Theme
St. Theresa of Avila was a Spanish nun, mystic and writer during the Counter-Reformation. Some sources suggest that as a girl, Theresa was willful and spoiled, and chose to enter the Carmelite sisterhood instead of marrying a wealthy hidalgo based on the mistaken belief that as a nun she would be afforded more freedom.

Upon entering the convent aged 19, Theresa became seriously ill (she has now become a patron saint for the infirm), possibly depressed and subjecting her body to self-mutilation.

By the time she reached her forties, Theresa had settled down to her new spiritual life, when one day, while praying and singing the hymn "Veni Creator Spiritus," she experienced the first of the episodes that would accompany her for the rest of her life: a rapture.

In her writings, Theresa describes how she would feel suddenly consumed by the love of God, feel the bodily presence of Christ or of angels, and be lifted to an exalted state of ecstasy. Although in her own lifetime Theresa was sometimes ridiculed for such claims, or even accused of communing with the devil, she became a prominent figure in the church. Theresa was one of only three female church doctors and was finally canonized in 1622.

The Commission:
Bernini's famous sculpture was commissioned by Cardinal Federico Cornaro of Venice in 1647 for his burial chapel in Santa Maria della Vittoria, replacing the previous sculpture showing St. Paul in Ecstasy. The Cardinal hired an already famous but down and out Bernini (his reputation was tarnished after his bell tower for the façade of St. Peter's had to be demolished in 1646) for the fantastic amount of 12,000 scudi (roughly $120,000), a price unheard of at that time.
The Ecstasy of Saint Theresa Analysis
The Ecstasy of St. Theresa is considered by many as the apogee of Bernini's oeuvre and is notable for the following qualities;

Bernini's St. Theresa is often described as a gesamtkunstwerk (a German word meaning "total work of art") for the artist's incorporation of a variety of elements: sculpture, painting, and lighting effects all presented in a theatrical setting.

The Ecstasy of St. Theresa is not just a sculpture, but a total environment: Bernini designed the entire chapel, creating a veritable stage set complete with sculpted audience members.

Eroticism:
Although some art historians insist that Bernini could not possibly have intended to imbue this subject with an erotic energy, as that would have been inconceivably heretical for that time, in reality the concupiscent implications of this work are unmistakable: the beautiful, bare-chested young angle gently opens Theresa's dress, preparing to penetrate her with his arrow, while the saint throws back her head with an expression of ecstasy.

The sensuality of the piece is directly inspired by St. Theresa's own writings, in which she describes her mystical experiences in overtly erotic terms;

"... Beside me, on the left hand, appeared an angel in bodily form... He was not tall but short, and very beautiful; and his face was so aflame that he appeared to be one of the highest rank of angels, who seem to be all on fire... In his hands I saw a great golden spear, and at the iron tip there appeared to be a point of fire. This he plunged into my heart several times ... and left me utterly consumed by the great love of God. The pain was so severe that it made me utter several moans. The sweetness caused by this intense pain is so extreme that one cannot possibly wish it to cease, nor is one's soul then content with anything but God. This is not a physical, but a spiritual pain, though the body has some share in it-even a considerable share ..."

Baroque grandeur:
Even more so than in his previous works, in The Ecstasy of Saint Theresa Bernini takes the principles of the Baroque (drama, emotion, theatricality) to unknown heights. Note the emphasis on the dramatic qualities of light, as well as the virtuoso and utterly fantastic mass of fluttering draperies.


The Ecstasy of Saint Theresa Artist
Bernini's The Ecstasy of Saint Theresa shows the artist at his best and he believed this piece to be his most beautiful creation. He described it as "the least bad thing I have ever done". A stunning display incorporating architecture, sculpture, and painting, the Theresa was adored in Bernini's lifetime but later harshly criticized for its overt sensuality and eroticism.

In describing The Ecstasy of Saint Theresa poet, art critic, influential thinker, and fellow Englishman John Ruskin said it was "impossible for false taste and base feeling to sink lower."

Yet, the wild success of this work immediately revived Bernini's career, and the artist experienced continuing success and popularity until his death in 1680.

Bernini was one of the most admired and sought-after of artists, with the highest of reputations. Italian and French contemporaries praised the artist with detailed biographies, sure of the genius in their midst. Naturally Bernini had his fair share of devoted followers. From contemporaries who worked directly under him or competed with him for commissions, up to modern artists who looked to his use of emotional multimedia design for inspiration, a multitude of artists can thank Bernini for the development of their own styles.

Though the Baroque and Bernini along with it went out of fashion for a long period of time, in the 20th century he was "rediscovered" as a true master of realism and emotion, earning a renewed respect and influence on a new generation of artists, which continues up until this day.
The Ecstasy of Saint Theresa Art Period
Bernini's career spans the height of the Italian Baroque. Baroque art is profoundly tied to the religious and political context of 16th and 17th century Italy: after the Protestant Reformation, the Catholic Church launched its own Counter-Reformation to reaffirm its power and attract more followers to the faith.

In order to do so, the leaders of the church called for artistic spectacles that would captivate the attention, stimulate the senses, and elevate the soul: in consequence, Baroque art tends to the massive, dramatic, and theatrical.

Bernini's sculptures are recognizable for their theatrical, engaging drama, dynamism, tension, texture, and naturalism. The last two criteria (texture and naturalism) are perhaps the most particular to Bernini: no one can make stone convey soft skin, curling hair, or crinkling fabrics the way Bernini can.

His sculptures are also unique for the careful attention Bernini pays to the effects of light and shadow, effects which are traditionally more important to the painter than the sculptor. Many elements of Bernini's style reveal the influence of Mannerist and Hellenistic sculpture.
The Ecstasy of Saint Theresa Bibliography
Some of the most important academic resources on Bernini and his works include the following;

• Bauer, George, ed. Bernini in Perspective. Prentice-Hall, 1976
• Borsi, Franco. Bernini. Trans. Robert Erich Wolf. Rizzoli, 1984
• Gould, Cecil. Bernini in France: An Episode in Seventeenth-Century History. Weidenfeld and Nicolson, 1981
• Hibbard, Howard. Bernini. Penguin Books, 1965
• Lavin, Irving. Bernini and the Unity of the Visual Arts. For Pierpont Morgan Library by Oxford University Press, 1980
• Magnuson, Torgil. Rome in the Age of Bernini. Almqvist & Wiksell International
• Morissey, J. P. The Genius in the Design: Bernini, Borromini, and the Rivalry that Transformed Rome. Duckworth, 2005
• Wittkower, Rudolf. Gian Lorenzo Bernini: The Sculptor of the Roman Baroque. Cornell University Press, 1981